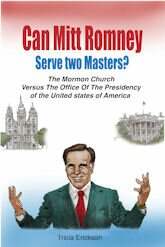 Tricia Erickson is the daughter of a Mormon Bishop and is thus far more familiar with the history and rituals of the Mormon faith than most. Currently, Erickson is a public relations professional and a political commentator. The book, as the author describes it, is "an in-depth exposé into the political, personal and religious life of presidential hopeful Mitt Romney."
Many of us who have opposed Romney for many years have attacked him as a phony conservative due to his long record of implemented liberal policies. Indeed, a good portion of Erickson's book covers Romney's history of promoting liberal social and fiscal policies. But what makes her book unique is that it also reveals information about the Mormon Church that causes one to question whether one can be loyal to both the LDS church and to the United States Constitution. This is a very sensitive area that many writers have avoided. But as a former Mormon, Erickson is able to write about this topic in a way that very few can. What many people don't realize is that the LDS church requires oaths of all temple members that takes precedent over all other oaths – including the oath taken when one becomes president of the United States.
The first time I ever gave any thought about how Romney's religion could impact his presidency was during the 2008 presidential campaign. There was a press conference at the Washington Press Club sponsored by a handful of former prominent Mormons, at which details were shared about a Mormon prophecy called the "White Horse prophecy." This prophecy predicts America will eventually collapse and that in the aftermath of this chaos, a Mormon will take charge and ultimately turn America into a Mormon theocracy. Yes, all LDS members believe in this prophecy– its required. One of the leaders of the press conference was Romney's former fraternity brother and he made clear that Romney actually believes his candidacy is fulfilling this prophecy. It was all very spooky.
Erickson's book also covers the White Horse prophecy and a variety of other Mormon rituals that call into question where Romney's allegiances lie. As Erickson states, "While he attempts to portray Mormonism as just another Christian Religion, Mitt Romney counts on his skills to shift our attention away from what he truly believes. If the American people knew what he truly believed, they would surely not place him in the highest office in the land."
The book can be ordered here:
Hardback versions of the book can be ordered here: http://www.westbowpress.com/Bookstore/BookDetail.aspx?Book=306757
If you would like to see a 10 minute U-Tube of Tricia on the Thom Hartmann Show, go here: http://www.youtube.com/watch?v=L2O_e7gDm1c
If you are with the media and would like to interview Tricia Erickson, please contact Kay at 910-270-0411, .
To get a glimpse of what the book is about, click below. Tricia is speaking with Janet Parshall on Moody Radio regarding the secret temple ceremonies that Mitt Romney participated in. http://asxarchive.moodyradio.org/IntheMarketwithJanetParshall/2011-07-11_In_The_Market__hour_01.asx