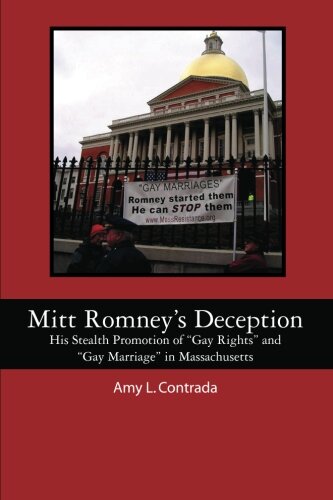 This book has been in the making for several years. The author is Amy Contrada, clearly the nation's top expert on the Romney governorship in regards to his obsessive promotion of the homosexual agenda.
Contrada holds a B.A. summa cum laude (Tufts University), an M.A.T. (Brown University), and a Diploma in Violin Making. She is a 40-year resident of Massachusetts. Contrada has been a reporter, researcher, writer, and office staffer for the pro-family organization MassResistance (Waltham, MA) since 2004.
It is gratifying to finally read a book that penetrates the cloud of propaganda that the media, the establishment Republicans, and yes, even some so called "conservative" leaders have woven around Mitt Romney and his past. Mitt Romney's Deception documents in great detail how Romney was clearly the most pro-homosexual governor in American history – of either party! For a man to pull off what he did – including dramatically advancing the cause of homosexual marriage — and still campaign for president as a "pro-family" conservative, demonstrates not only his arrogance, but the length to which many Republican leaders have gone to cover up for this man.
It's high time all Americans find out who the real Mitt Romney is. Candidates should be judged by their past actions, not by their campaign rhetoric. This book documents actions by Romney that will shock you to your core. The depths that Romney went to force the homosexual lifestyle on our children almost borders on the psychotic. Contrada details how Romney supported the homosexual and transgender agenda on same-sex "marriage," promoted this dangerous lifestyle to school children and advocating societal transformation in regards to same-sex culture – all while posing as a defender of the Constitution and traditional family values.
Much of what Contrada writes about has never been revealed in the mainstream press. Here are a few highlights:
* How Romney unconstitutionally implemented same-sex "marriage," thereby dramatically advancing the same-sex marriage battle nationwide.
* How Romney followed a constitutional amendment strategy doomed to failure, while ignoring the possibility of removing the judges who ruled for same-sex "marriage."
*How Romney undermined the principle of religious freedom and failed to defend Catholic Charities when they refused to allow homosexual couples to adopt children in accordance with the Christian principles.
*How Romney implemented radical homosexual and transgender programs in his Department of Social Services and Department of Public Health.
*How Romney funded and promoted homosexual and transgender indoctrination in the public schools through his Governor's Commission on Gay and Lesbian Youth and his Department of Education "Safe Schools" programs.
*How Romney appointed and promoted homosexual judges, homosexual staff, and homosexual candidates, all of whom were committed to destroying traditional marriage.
*How Romney financially contributed to radical homosexual groups.
*How Romney worked directly with radical homosexual activists to promote their self-defined "rights."
Romney front groups such as "Evangelicals for Romney" have tried for years to pooh-pooh this information, claiming that conservatives were making all this stuff up. As a result, Contrada has made sure everything is documented. Indeed, the book has over 900 detailed footnotes. It also includes a compendium of Romney's public statements related to "gay rights," a detailed timeline covering Romney's implementation of same-sex marriage, and many previously unpublished photographs. It is a unique resource by an activist on the front lines of the culture war during Romney's term as Governor.
I highly recommend the book. It can be ordered from Amazon here.

To follow Amy's work, one can visit her website at www.amycontrada.com or her blog at http://www.massresistance.blogspot.com/
Contrada is available for media interviews and can be reached by email at or leaving a message at 781-890-6001.